How To Pressure Clean Your Family Boat
When I was younger our family had a 21-foot speedboat that we used mainly for waterskiing and tubing.
Most Saturdays during the summer we would take it out on the lake or ocean. My brother, sister and I loved Saturdays in the summer for this reason. The boat was old but man was it fun once you got it out on the lake.
But there was a catch. Us kids had to agree to something before leaving the house.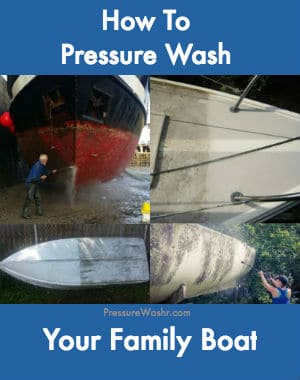 You see, my dad was the only one that could drive the boat. And even though he loved taking us out on the water, and loved being out on the water all day.
He dreaded everything else about owning the boat.
So what did he do? Well, what any good father would do: He blackmailed us. Each friday night when we asked if we could go boating the next morning, he would smile and say, "As long as you do the wash down when we get home!"
So for the couple years we owned a boat growing up I became well aware that owning a boat isn't all fun and games.
Owning a boat is a lot of work. Yes, the payoff is huge. Boating is tons of fun, but also tons of work.
One of the best tools to own to make boat maintenance easier is a pressure washer. A pressure washer speeds up the wash down while also doing the job better than by hand and garden hose.
Watch this to learn the proper technique to pressure clean your boat:
Steps To Pressure Washing Your Boat
Pressure cleaning your boat is quite a similar technique as washing your car or truck:
Make sure you remove any loose equipment or items that could be pushed around during the cleaning.
Close all doors, windows, hatches, and portholes before turning your pressure washer on and starting work.
Be sure to use a biodegradable cleaning solution that the pressure cleaner User's Manual approves of. Other ammonia type solutions will damage your boat and washer so be sure to avoid.
Attach the pressure washer soap nozzle and spray the boat from the bottom up to prevent streaking.
Let detergent sit for 5 minutes while keeping the surface of the boat hull etc. wet.
Use a rotating scrub brush attachment if stains and mildew/algae persists.
Now that you've let the detergent sit it's time to rinse top down.
Attach a 25-degree nozzle and clear the detergent by pulling the pressure gun trigger and holding for a few seconds.
Now rinse the boat TOP down. This prevents streaking & ensures dirt and unwanted grime rinses off the boat.
Don't forget to include the motor and trailer in the pressure washing. Be sure to maintain distance from the motor to prevent large amount of detergent getting into it.
Be sure to flush motor like you normally would after you finish pressure washing to remove any detergent that did get in there.
Protecting Your Boat Hull Longterm
A day or 2 after pressure washing wax the boat hull to protect it.
Use marine wax.
Here's exactly what EdgeWater Boats says:
Wax the entire boat. The hull will maintain its factory delivered luster much longer if waxed at least once a season. The inside of the boat, which is subject to the sun's direct rays, will also respond well to a good coat of marine wax.
Remove the hull plug so the sump area can breath. DO NOT wax the non-skid surfaces.
What Is The Ideal Power Washer For The Job?