Best Heavy-duty Power Washer On The Market
Heavy-duty power washers give you more cleaning capacity than medium and light-duty. This is because they have higher PSI (2,800+) and GPM. They make quick work of large driveways and flat areas like tennis courts. Yet, with the right nozzle and technique can clean vehicles without damaging the surface. They are all gas powered and cost at least $370.
I was walking past a job-site a few weeks ago and noticed they were using a heavy-duty petrol power washer to remove the single yellow lines in the parking lot they were building.
I have a pressure washer website, so of course I stopped to chat.
It turned out they had spaced the yellow lines too far and had to rent the cleaner for $80/day plus gas cost. I watched as the yellow paint peeled off the surface as they pressure washed it. Yes, they did apply paint stripper but it surprised me how easy it was.
A power washer as big as these may be overkill for around your house, but there's no doubt it makes any cleaning job faster and effortless.
Even the least powerful heavy-duty units have 2x and 3x the cleaning capacity of medium and light-duty pressure washers.
Contractors purchase them because they are built with tough, long-lasting industrial strength parts. If you're the type that buys the best because you see it as an investment for the long-term go with the heavy-duty.
Quick Look: Best Heavy-duty Options
Before showing you what a heavy-duty model can do, take a quick look at the two best on the market for most people's needs:
Here's What You Could Do With Your New Pressure Washer
A heavy-duty unit can do light and medium-duty jobs more often and faster. It manages this because it has parts built to last.
Use the right nozzle and adjust spray distance to keep the ideal force for the surface being cleaned to avoid damage (wood: less force, caked on mud to steel: more force).
In general, a heavy duty residential machine can be used safely up to 20 hours per week. If you plan to start a pressure washing business and be using it 30+ hours per week, you'll want to upgrade to a commercial pressure washer.
Here are 4 common uses: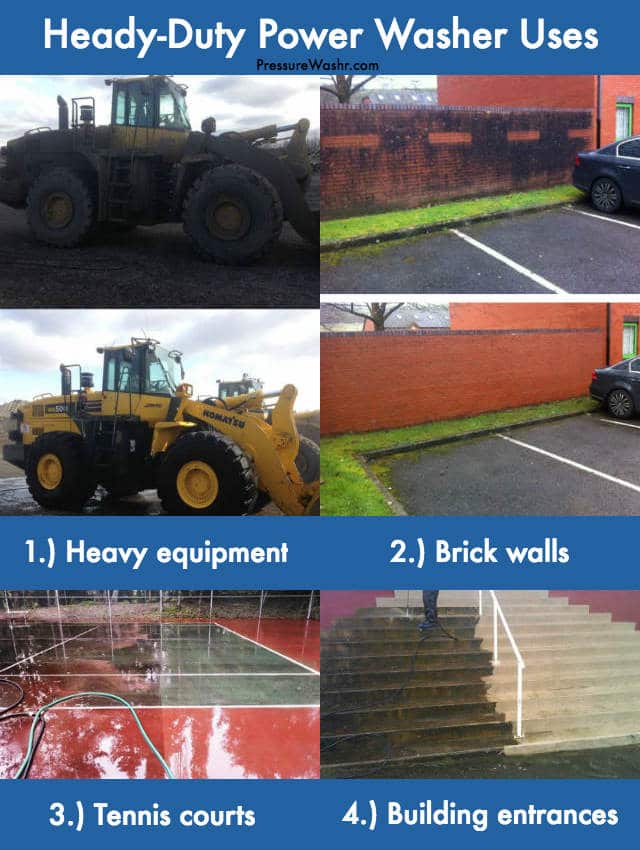 1.) Heavy equipment
A big powerful pressure washer is ideal if you have caked on mud to hard steel surfaces. If you have some heavy equipment on the farm or job site, no problem.
But like mentioned above, if you plan on all-day-every-day pressure washing upgrade to commercial.
That's what pressure washing contractors with truck fleet washing contracts do. Some big shipping or other large companies can have 100s of trucks that need regular washing. And many prefer to hire contractors for the gig than hire internally.
Also Read about: 7 Essential Pressure Washer Safety Tips For Beginners
2.) Vertical walls
Brick, concrete or other large flat wall areas are ideal for big flow rate power washers. The image above is of a parking lot wall divider and took a little more than one hour to properly clean. A light duty cleaner would take 2-3 hours with its lower GPM.
3.) Sporting courts like tennis courts and basketball courts
A surface cleaner attached to a large power washer is the best way to clean tennis courts, outdoor basketball courts, large parking lots and other big flat areas.
4.) Building entrances and large concrete areas
Clean building entrance stairs and courtyards with ease and efficiency. A light or medium duty can do the job, sure, but it will take longer and you'll get annoyed having to go back and redo an area.
Features That Matter
Every tool brands' version will have slightly different features. Here are the ones that matter: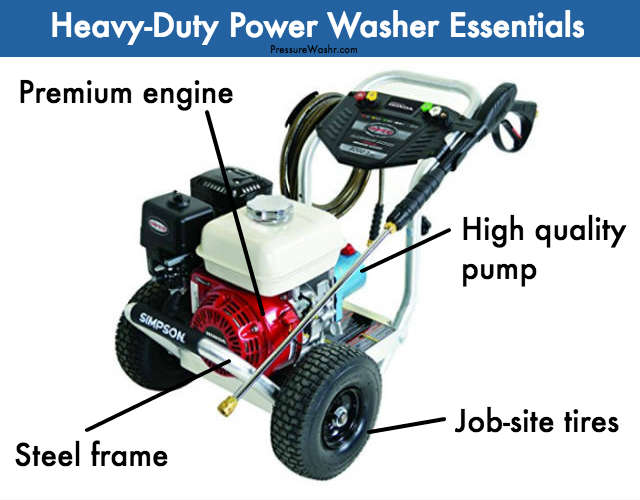 Sturdier Steel Carriage – A heavy-duty machine needs a stronger frame because it has a heavier larger engine and pump. If it didn't it would bend and deform quickly. This robust frame also makes it suitable for wheeling around a job site.
Job-site Tires – To support the big engine and pump the power equipment should have large pneumatic tires. If it didn't it would be tough to move around on uneven ground.
Commercial Series Engine – Although there exist heavy-duty washers with residential-grade engines and heavy duty tier power, you'll notice most of the heavy-duty's we recommend have the commercial engines. This is because a commercial engine in a pressure washer will have a bigger fuel tank and more long lasting components.
Longer Lasting Pump – The difference between operating life of an axial cam pump and a triplex plunger pump is astonishing. Not all heavy-duty units have crank driven triplex plungers but the best do.
Picking The Best Heavy-Duty Pressure Cleaner On The Market
Honda Powered – Best Value for the Money
1.) Simpson PowerShot  3,200 PSI 2.8 GPM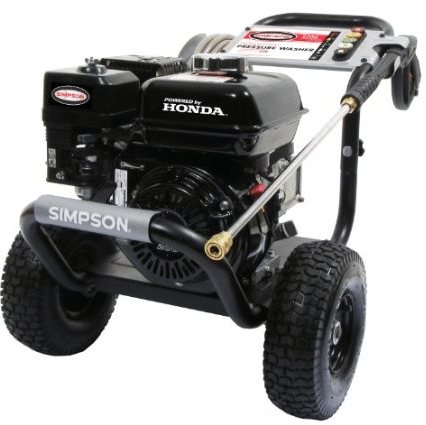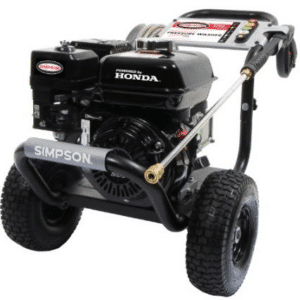 The best heavy-duty washer is the Simpson PS3228-S Powershot 3200 PSI 2.8 GPM. It's powered by the famous Honda GX200 gas engine. It has enormous cleaning power and is manufactured by Simpson – the brand DeWalt trusts to manufacture their units.
See those large tires and heavy-duty steel carriage? Yeah those make this unit job-site ready and very sturdy and easy to move from job to job.
If you plan to use this unit around the house then rest easy knowing there is no job too tough.
A Worthy Alternative With Adjustable Pressure Settings
2.) Generac 7122 SpeedWash 3,200 PSI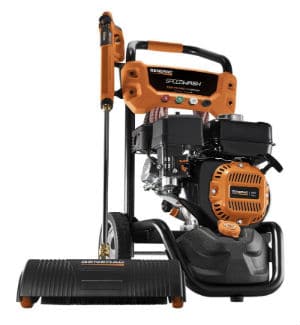 The main selling point of the all-new Generac 7122 SpeedWash 3200 PSI 2.7 GPM unit is that you can adjust the pressure down to 2000 PSI at the turn of a dial next to the trigger gun. There's 4 pressure settings total to make moving job-to-job a cinch.
It comes with a purpose-built Generac 196cc OHV engine. And it comes with all the accessories (turbo nozzle, soap foamer and brush) to make the jobs finish quicker.
On Amazon, over 100 customers have rated it very highly after buying it and using it for a period of time. I would personally go with the Simpson above (Honda engine), but if you love Generac or really want the adjustable pressure then check out the full details at the link:
Sources
Here's the PS3228 Simpson pressure washer details page used to research the specs and warranty of the unit.
The Generac 7122 SpeedWash unit product page was helpful and includes the product manual, spec sheet and warranty details.