Will Battery Powered Pressure Washers Dominate The Industry?
Prediction from 2017: 2026 will be the first year battery powered pressure washer sales beat corded electric sales.
2021 Update: Still optimistic, but could be a little longer than originally thought.
To get there we'll need to double current best battery power density and cut the cost by 50%.
This isn't insane, it's inevitable.
This rapid battery improvement by 2026 will allow for a cordless pressure washer that has 2-3 hours run-time before needing charge, 10-20% more cleaning power than today's corded electric options and costs in the under $300 range – around the same price as the more expensive corded electric Karcher's on the market today.
Here's how it's possible:
The cost will come down naturally with more battery demand. This is happening already with electric cars becoming more and more popular and Tesla meeting demand with its Gigafactory 1 (and Tesla has plans for many more).
The power density of lithium-ion batteries has almost tripled since being introduced to commercial markets by Sony in 1991. With increased demand and money for research, testing and development it is easy to believe we can double energy density by 2026.
Predictions are fun, but they are no more than guesses. So let's step back and take a look at the cordless electric pressure washer market of today.
Why aren't cordless electric already more popular?
With current lithium-ion battery and electric motor technology, pressure washer engineers are forced to optimize cost, cleaning power and size/weight to offer us the best battery powered pressure washer they can.
Still, however, the one's available are either too expensive or not powerful enough.
You might ask why they can't use a 3 or 4 car batteries to power an axial power washer pump with enough flow to compete with gas pressure washers. But the answer is the power washer would be huge, heavy and impossible to market to consumers when they could just buy the gas engine machine for cheaper.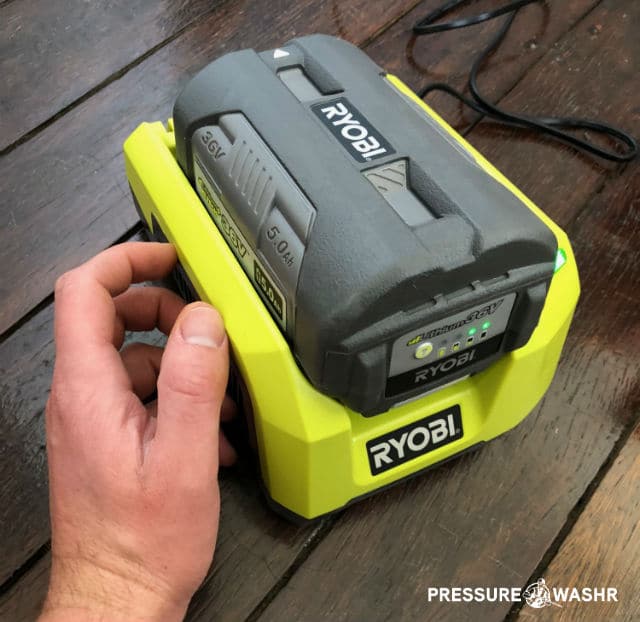 To start competing on value for money, cordless pressure washers will need a battery that:
This is when the electric machines advantages of being quieter, less maintenance and less stinky/no fumes will begin to sway the market towards them. Until then, if you need lots of cleaning power for not much money, gas powered pressure cleaners are your only option.
Let's explore the market more, take a look at the current state of cordless electric power washers and talk about where the next-gen battery technology is currently at.
Let's look at the best battery powered pressure washers for sale right now
There are only two on the market to compete with corded electric cleaning powers (GPM x PSI). Others are available, and called pressure washers, but they are only producing 300-500 PSI at ~1 GPM, which is the same cleaning power as a garden hose and sprayer nozzle. We won't include the latter below.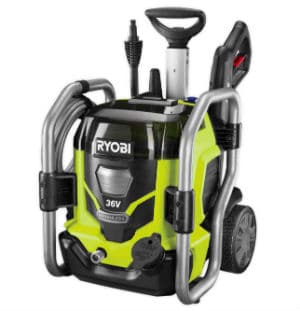 Ryobi has one that has the same cleaning power as most corded electric… It just costs more than double and you'll need two battery packs to increase run-time to about 45 minutes total (20'ish minutes from each battery).
However, it's a good start and looks decent. The product probably won't sell very well due to its cost, but I'd say Ryobi owner TTi Group knows this and is simply testing/priming the market.
Looking at it's user manual the machine is also much quieter than a corded electric… It's 79 dBa vs. a corded electric is 90 dBa+. This sound difference is like an electric shaver vs. a kitchen blender.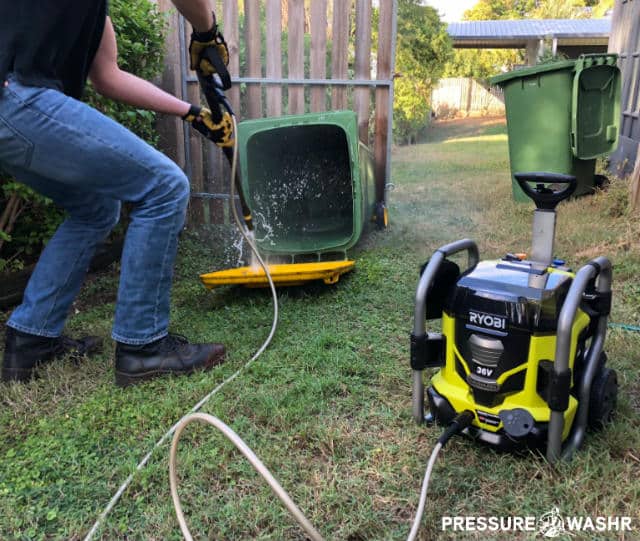 And testing it out is very surprising how quiet it is. Almost silent.
Testing it out on garbage wheelie bins:
Check out Ryobi's promo video for it out on YouTube below: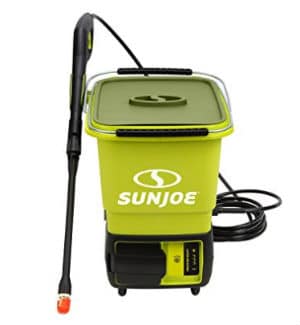 The only acceptable battery electric pressure cleaner for sale on Amazon is this one by Sun Joe. And it has a bucket for water to make it even more portable.
It has more than double the cleaning power of a garden hose with spray nozzle so you'll have no trouble cleaning your bike, boat and car, but you'll have trouble when it comes time to clean your driveway…
However, it's not meant for that. It is for maximum portability to take with you and use on the dock or in the woods before putting your muddy mountain bike in the back of your car.
What are the current downsides?
There are 4 downsides causing people not to buy the battery powered machines on offer.
Expensive
Current models are 3 or 4 times the price for comparable corded electric pressure cleaners.
Not long enough battery life
The current battery power washer from Ryobi has 20 minutes of pressure washing time per battery. It allows for two batteries onboard – so 40 minutes. Barely enough for a small driveway or back patio before needing to change or charge the battery.
This is comparable to the time current cordless electric lawn mowers last.
Current batteries used on pressure washers are 36-volt and 5Ah which is 180 watt-hours of energy. Given the brushless motors used in these pressure washers are around 1,500 watts you would get 8.3 hours of run-time if you didn't need the motor to turn the pump. To get more flow rate and start competing with gas powered machines, bigger pumps will be required and that means higher energy batteries.
Not enough cleaning power
The main reason people buy gas power washers today is because they are more powerful.
Cleaning power is GPM x PSI and in the residential category the highest GPM electric is 1.7 GPM. Gas machines start at 2.5 GPM.
If we put the pump used in the gas machine in the cordless one you would need a battery the size of a cereal box to give you 1 hour of pressure washing time. And the pressure cleaner would cost double the gas one. Not feasible with today's battery and motor technology.
Ultimately: Poor value for money
Cordless electric lawn equipment is usually triple the cost of comparable corded machines. When we look at comparable priced gas machines we find the battery powered to be half the power and it requires battery charge or change every hour. Terrible value for money.
What are the potential upsides?
Right now the only reason for someone to buy the battery powered electric is they need all the pros of electric and they need the portability of gas.
For example, maybe they need to clean indoors on a job site with no electric outlets. Or maybe they need to pressure wash in a remote campsite with noise restrictions. Or maybe they need to bring it with them on their sailboat to clean bird poop and they don't want to use their generator for a corded machine…
…It's hard to imagine scenarios why someone would pay double for half the cleaning power at present.
But in the future, probably mid-2020s, the benefits will begin to appear. Cheaper batteries. More demand. More expensive gas. And then popular brands might start competing with each other selling cordless ones for you and me.
Until this market competition happens, and it will once batteries get cheaper and energy density improves, the demand will not be there.
Do you want one?
To be honest: I do find the electric cord to be a big constraint and it's annoying. But I just bought a 30-foot extension cord for $15 and now I can easily reach to the back of my driveway to wash the car.
I also own a gas machine and love how much cleaning power it has. It really is no comparison to the corded electrics I own.
What about you?
How bad do you want to see a battery powered one that can actually compete on value for money with the corded electrics?
I can't see them getting popular until they can:
Until the batteries are advanced enough to do this gas and corded electric will remain the winners.