Pressure Washer Rental – Here's The Costs To Rent a Power Washer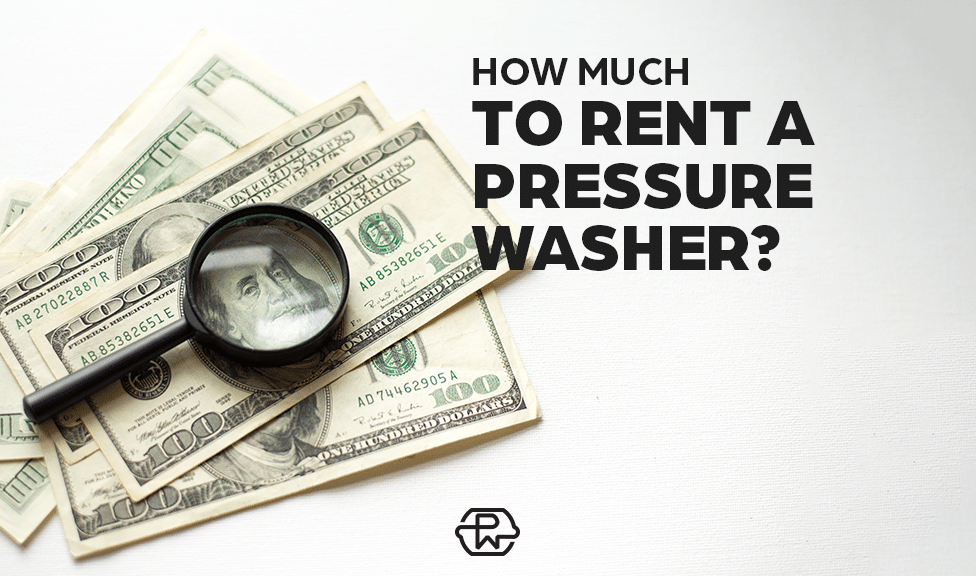 Here you will discover the pressure washer rental cost for a hot water, heavy-duty and medium-duty pressure washer. The cost to hire from Home Depot and 6 other rental shops have been compared and displayed in 4 charts for you below. We'll also take a look at the pros and cons of renting vs. buying the best pressure washer or hiring a pro to do your pressure washing.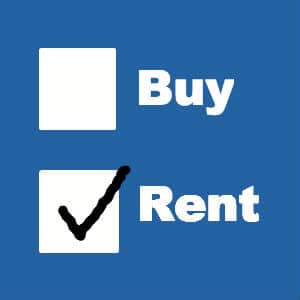 There's two reasons to rent a pressure washer to use around your house or jobsite:
You don't want to spend money to buy a pressure washer for the 1 day you plan to use it each year.
You don't want to hire a pressure washing contractor for $110 – $350 to do the work you think you can do yourself (and enjoy doing).
The Pros of Renting are:
Don't have to do maintenance. When you rent a pressure washer you only have it for 1 day and the rental shops takes care of the maintenance.
Doesn't take room up in your garage. You may have a large garage and this is not an issue but it is definitely a pro of renting.
Don't have to go through the steps to winterize and store it.
Costs less to rent than to buy (unless you plan to buy a very low cleaning power machine).
You're renting a very high quality machine.
The Cons of Renting are:
You have to do the work yourself.
There are rules regarding power washing discharge water entering the storm drain that risks fines for non-compliance.
Renting might not be any more affordable than hiring a pro, depending on the cleaning jobs you need done.
A pro is a pro and will do a more thorough job in less time (they have more experience).
You can own a pressure washer for 2-3x the cost to rent for 1 day (albeit, not the world class quality you're renting, but one that will get the job done).
Pressure Washer Rental Costs
Here's a chart of the 1-day pressure washer rental cost for a power washer at 7 different pressure washer rental shops around the US: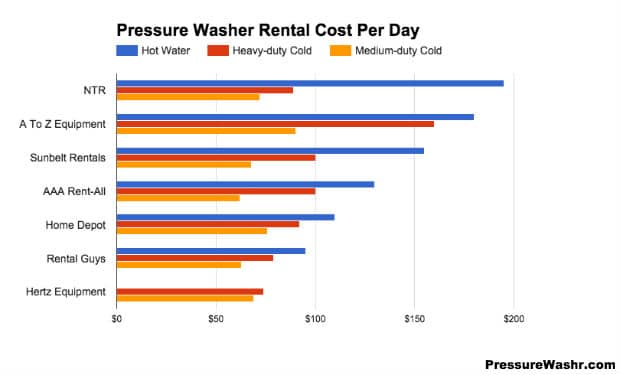 A few notes about the comparison chart:
Hertz Equipment Rentals does not offer a hot water pressure washer rental option.
The only place that offered an electric pressure cleaner for rent was Home Depot so it is not included it was $35/day.
The average cost to rent a hot water unit is $144/day.
Average cost to rent heavy-duty gas pressure washer is $99/day.
Average cost for medium-duty machine is $71/day.
To compile the data 7 different power equipment rental websites were visited, here's the links:
Now let's take a look at each type of pressure washer rental in more focus.
Renting a Hot Water Gas Powered Pressure Washer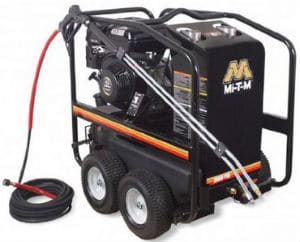 A hot water pressure washer is the ultimate cleaning tool because the combination of hot water, high pressure and soap makes any stain, dirt, grime, algae or bacteria be-gone.
You can rent them in various pressures and flow rates. The rates below were for between 2,500 -3,500 PSI machines. All came on a cart with 4-wheels to make pushing it around easy.
A hot water machine generates hot water by having an onboard diesel or kerosene burner that circulates the water in a coil with a flame going down the center of the coil heating up the water as it circulates to nearly boiling temperatures.
Hot Water Pressure Washer Rental Cost Chart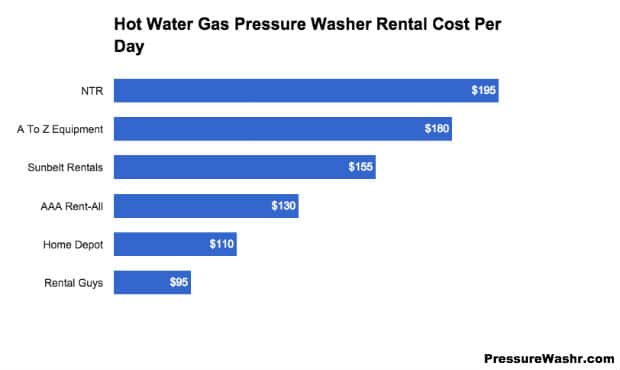 Funnily enough, the hot water power washer offered for rent from NTR (NorthSide Tools Rental) for $195/day and Rental Guys for $95/day is the exact same 3,000 PSI Mi-T-M machine.
Also note that Hertz Equipment Rentals is not on this chart because they don't offer a hot water machine for hire.
On average hot water units were the most expensive to rent from $45/day.
Heavy-duty Gas Powered Power Washer Rental Cost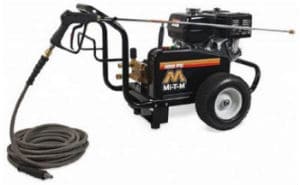 A heavy-duty power washer is classified here by being over 2,800 PSI. They are ideal for large jobs around the home or jobsite like big parking lots, garages etc.
There are 2 types: direct drive and belt drive. The belt drive is more expensive as it connects the engine to the pump via a belt for lower operating temperature and thus longer life. You tend to see more belt-driven units available to rent, but the list below includes both belt and direct drive heavy duty machines.
Heavy-duty Rental Cost Chart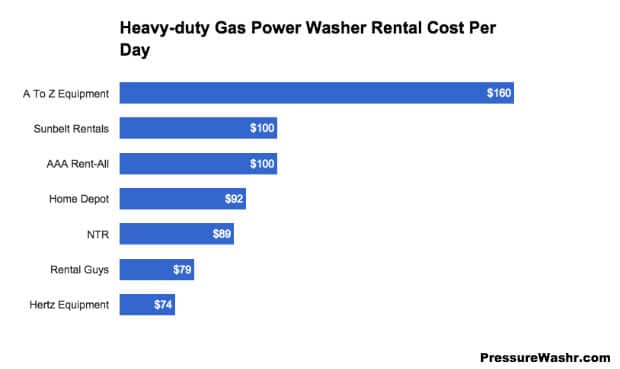 The most expensive here is the A To Z Equipment rental machine which is a belt drive 4,000 PSI. The least expensive is the Hertz Equipment belt-drive Landa machine which is 3,000 – 3,999 PSI depending on availability.
On average heavy-duty machines were $28/day more than medium-duty machines.
Medium-duty Gas Powered Pressure Washer Rental Cost
Medium-duty pressure washers (2,800 PSI and lower) are the most common to rent for jobs around the home. The hot water machines are mostly rented by construction workers for heavy-duty cleaning jobs around a construction or jobsite. But medium-duty units are affordable and easy to operate for your driveway, back deck, house siding, fencing or whatever else.
Medium-duty Rental Cost Chart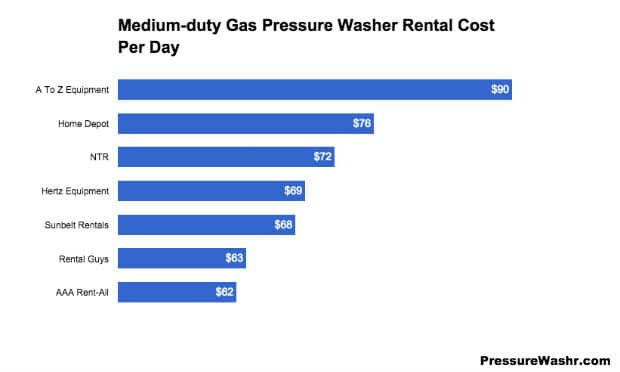 The 2,500 PSI belt driven Mi-T-M pressure washer is what you get from both A to Z for 90/day and from AAA Rent-All for $62/day.
On average to rent a medium-duty was $71/day.
Want to Rent an Electric Pressure Washer?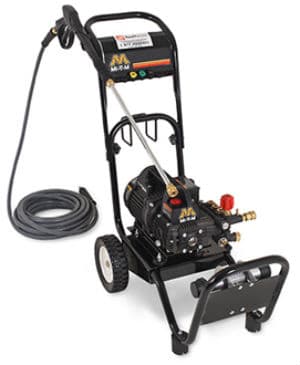 Of the 7 equipment rental outlets above only Home Depot offered an electric pressure washer rental and it is $35/day for a 1,400 PSI.
So why rent an electric instead of a gas?
Much quieter.
Can use indoors.
Don't have to refuel.
You don't need high PSI because you're just washing your home exterior, windows, car or garden equipment.
It is much less money to rent electric.
If you're wanting to rent electric then go to your local Home Depot or search for your nearest equipment shop that does offer electric for hire.
Renting Pressure Washer Accessories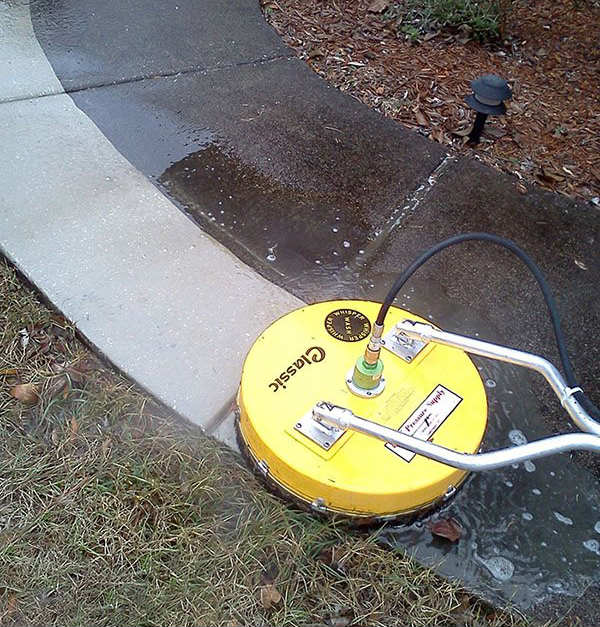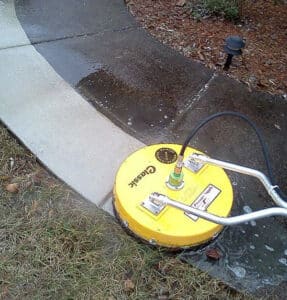 Accessories increase the cleaning efficiency by offering specialized tools for jobs. In this picture you see a surface cleaner which is ideal for large flat areas like driveway. They speed up the job by cleaning a wider area as you push it around.
The most popular accessory to rent is a surface cleaner. You can rent them for $31/day at Home Depot up to $60/day at other places.
There are many other accessory options but in most cases you can negotiate the shop to "throw them in" with the rental. But with surface cleaners you will have to pay since they are expensive to buy compared to the other accessories.
Deposits and Damage
In most cases you will have to pay a damage deposit up front to cover any damages that may occur. The only website that offered detail up front on deposit is Home Depot and it tended to roughly match the rental cost. So if you rented the heavy-duty machine for $92 for the day the deposit upfront is $125. For the surface cleaner rental it was a $50 deposit when the rental was $31/day.
Wrap-Up
Overall Home Depot offered very fair prices and were the only to offer an electric machine for rent. In addition they are likely to have a location near you.
The great thing about renting a pressure washer is you get to experience pressure cleaning with a top-notch machine. A machine that likely costs $2,000 or more brand new. Check out the prices of different style pressure washers here.
---
More from PressureWashr
By now, you have probably heard about the three r's (reduce, reuse, and recycle) that represent the foundation of preserving…