The Best Medium-duty Pressure Cleaner For Most People
Medium-duty pressure cleaners are the most popular. The most versatile. They hit a sweet spot with pressure ranging from 1,700 to 2,800 PSI (40x garden hose pressure) and prices ranging from $120 to $350. Some are electric. Some are gas. And – with the right nozzle – there's no reason why a medium-duty can't be used for light-duty jobs.
My friend makes $100 a driveway with his medium-duty gas pressure cleaner in Florida.
He also does decks, oil stained garage floors and other residential surfaces. All with a medium-duty. All in his free time outside of his regular job.
Why am I telling you this? Because you could easily payoff the pressure cleaner by charging to clean a few friends driveways (be sure to read your units warranty conditions before doing this).
Regardless if you decide to do that or not owning a medium-duty cleaner saves you money in the long run. And saves you time and effort in any cleaning efforts around the house.
Quick Look: Best Gas and Electric Medium-duty Pressure Washer
Have a quick look at the top gas and electric option in this category:
Check Out What You Can Do With A Medium-duty
This size range is great because they do everything a light-duty does, just faster. As we move towards larger areas the more valuable a medium-duty becomes.
Do you know the Best Commercial Pressure Washer of Each Style?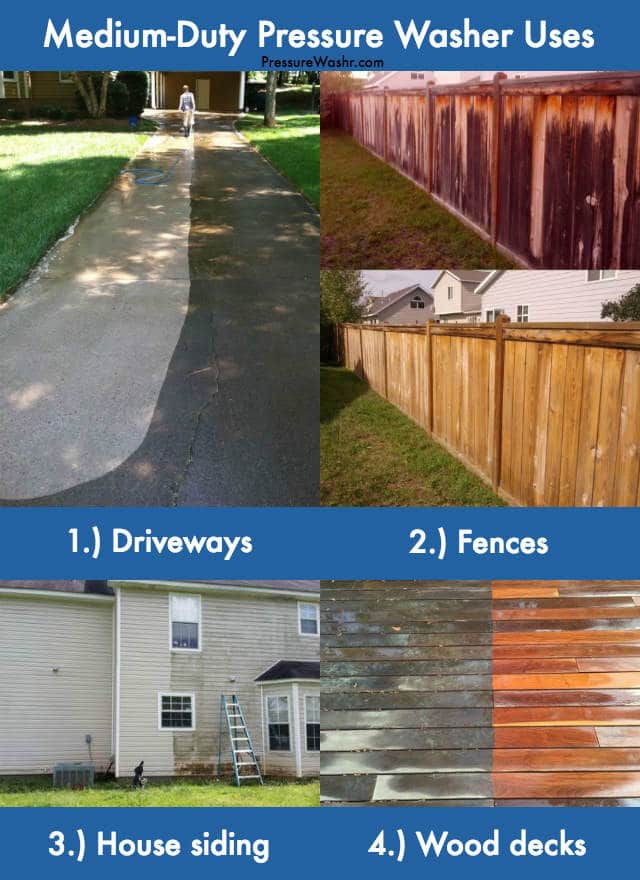 1.) Driveways
Just look how much better the driveway looks clean. And how long do you think that job took? It's a pretty long driveway, but with a surface cleaner and pressure washer it takes two hours done properly. You will want to use a surface cleaner attachment for large flat areas because they improve the efficiency.
2.) Fences
You can pressure wash your wood fence with a light-duty pressure cleaner but it will take twice as long. A mid-tier machine has more flow rate and that means more cleaning capacity. You can visualize this principle by thinking about a fire hose. You don't see Firefighters putting out fires with garden hoses. They use big thick hoses because it handles more water volume.
A medium-duty power washer is great for a small one-story house siding clean but heavy-duty is recommended once you get to two-story bigger homes. This is because you'll need to use a telescoping extension wand to clean the upper level while staying safe on the ground. A heavy-duty can provide the needed flow rate for an extension wand to clean properly on the first pass so you don't spend your entire weekend pressure washing.
4.) Wood decks
With the correct nozzle you can clean your wood deck with a medium duty in a few hours. However, if you use the red tip blasting nozzle it could start cutting into the wood. Pine will be damaged at 2,320 PSI. Be sure to not use the red tip and be sure to hold the spray a few feet back from the deck surface.
Deciding Between Gas and Electric
The medium-duty type of pressure cleaner is unique because there are both electric and gas options to choose from. So how are you to know which one is for you?
Electric – More affordable, quieter, less maintenance, doesn't require trips to the gas station. However, the cord can be annoying and limiting and although the machines are more affordable then are less durable. Get an electric style washer if you only plan to wash thing close to your home where an electric outlet is accessible and only plan to wash for a few hours a weekend at most.
Gas – More expensive, louder, smelly fumes, more maintenance and can't use machine in poorly ventilated indoor areas. Also it requires trips to the gas station for fuel refills. However, you free yourself from the electric cord and get a more powerful pressure washer that will last more years and hours usage than medium-duty electric. Get gas if you want the power and freedom, especially if you need to power wash a further distance from your home or need to wash around others homes and don't have access to electric outlet.
Picking The Best Medium-duty Power Washer of Each Type
Best Gas Powered
1.) Generac 6922 2,800 PSI 2.4 GPM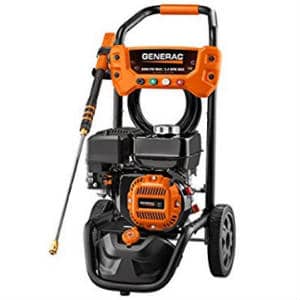 Generac's new line of residential pressure washers is pretty sweet. Not only do they look robust but they are also top in class for performance and value for money.
Generac's 2,800 PSI and 2.4 GPM model is the best gas powered medium-duty unit out there. It costs less than $300 and comes with a Generac high quality OHV engine to last you many years.
It comes with 4 quick-change nozzles so you can adjust the force hitting the surface. This means within seconds you can go from blasting your driveway clean to spraying your car down without worrying about the pressure on the car panels.
Best Electric Powered
1.) AR Blue Clean AR383 1,900 PSI 1.5 GPM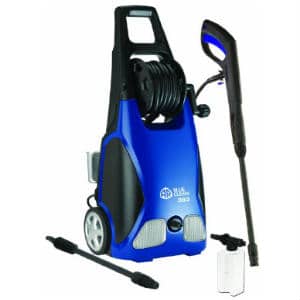 The most popular of all pressure cleaners (not just electric or medium-duty) is the AR Blue Clean AR383. And there's good reason for it…
…It only costs $150, and yet, you get 1,900 PSI and 1.5 GPM. As you can see in the picture it stands upright and has a hose reel, wheels and a handle for easy moving.
It has a universal motor and an Annovi Reverberi – Italian top quality pump – made of aluminium. Being electric it can be used for indoor jobs without breathing in smoke and is very quiet and low maintenance. It's one of the top-rated units on Amazon with a 4.1 out of 5 star rating after 2000 customer reviews.
Types of Pumps, Electric Motors and Gas Engines in Medium-duty Machines
Wobble vs. Axial vs. Triplex Pumps
These are the 3 common types of pumps in pressure washers, although you will only see triplex crank driven pumps in the commercial-duty machines within the medium PSI range (1,700 – 2,800). Due to their cost, the most affordable units with a triplex crank pump is heavy-duty residential (~$600+).
Wobble and axial are the one's most common in residential medium-duty. Both are piston pumps directly driven by the motor drive shaft. Because they run at higher speeds (engine speed) their operational life is less, when compared to triplex crank. Between wobble and axial, you will only see wobble in the low model electric machines.
Universal vs. Induction Motor
Universal motors are cheaper and more common on power tools because they are lighter, smaller and more portable. However, they are also much louder, less energy efficient (get very hot with extended use) and have a much shorter lifespan than induction motors. Induction motors are going to last a very long time but cost more initially and are heavier and bigger so you will usually only see them on commercial-duty units built on a cart type frame.
OHV vs. OHC Gas Engine
OHC is newer design, better at higher RPMs, less moving parts, easier to maintain and generally considered better for small engines
OHV is cheaper and smaller/more compact head compared to same power OHC.
Honda has pressure washer engines in both types: OHC (overhead camshaft) and OHV (overhead valve). Their commercial-series engines use the OHV style and their residential-series use the OHC style engine. This is because Honda wants to keep their more powerful small engines compact. If they used an OHC in their 15 hp small engine it would be 50% bigger than the same power OHV. In addition, OHV is again ideal for use in their commercial engines because the more powerful engines are already producing enough torque for the job and don't require the higher RPM OHC engines offer.
Sources
Generac's official product page for the power washer listed above was used to find the User Manual and read about the maintenance required for the machine. Generac's product page for the 6922 model state's the manufacturers suggest retail price is $279.
PressureWashersDirect.com's AR Blue Clean AR383 product page is a great resource for learning about the pressure washer in addition to the official ARBlueClean.com product page for it. Those sources were used to verify the machine had a universal motor (and what size) as well as learn about hose material and issues related to it.