Top 10 Pressure Washer Uses
What are the 10 most popular pressure washer uses?
Tons of people own pressure washers and use them for different things. I've seen people use them to clean car seats, window blinds, air conditioner filters and everything else you may find around the house.
But I was curious what the most common uses are. Let's look at a what the go-to industry report revealed…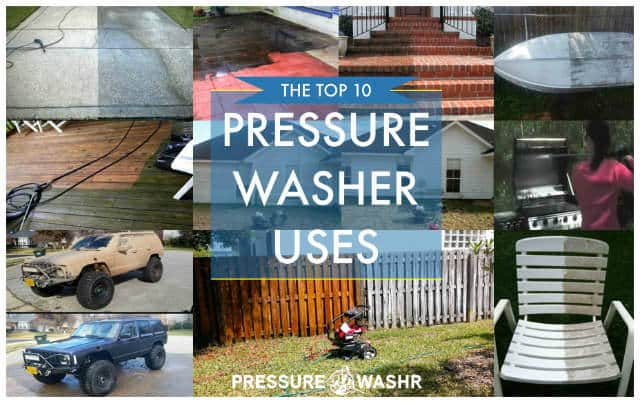 According to a September-2014 report from research company IBISWorld, the pressure washing industry employs 182,073 people in the US and generates $9 billion in revenues. In the report it listed the most common industry activities as follows:
Window washing
Drain, duct and gutter cleaning
Pool cleaning
Parking lot and driveway washing
Other outdoor maintenance cleaning activities, and
Chimney sweep services.
A few of these don't seem to fit into how I see my neighbours and friends using their pressure washers. Chimney sweep services? But of course the reason for this is that is commercial and I am interested in residential. So I went and asked around in forums and compiled the below list of what seems to be the top 10 pressure washer uses:
10. Grills
Pressure cleaning your BBQ grill is often thought as taboo. But if done correct you will not damage the electrics or make your food taste like soap. The video above is a gif made from a video on Briggs & Stratton's youtube channel . You can see the full instruction video and written out guide for BBQ grills at the link here:
9. Outdoor Furniture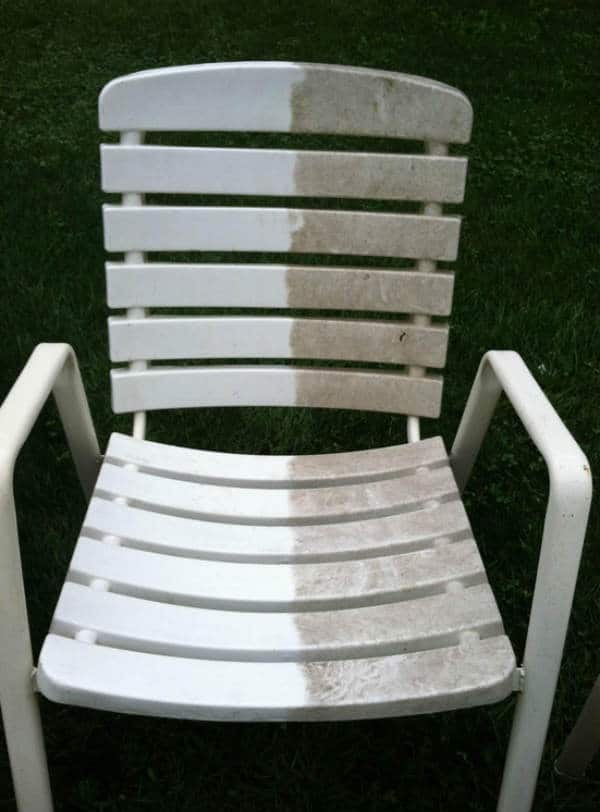 The 9th most popular pressure washer use is cleaning plastic, vinyl or wood outdoor patio furniture. It seems that people either never cleaned their outdoor furniture or they did it every weekend and loved it. And why not? It's super quick and easy.
8. Various Gear Like Lawn Mowers, Mountain Bikes, Trailers and Boats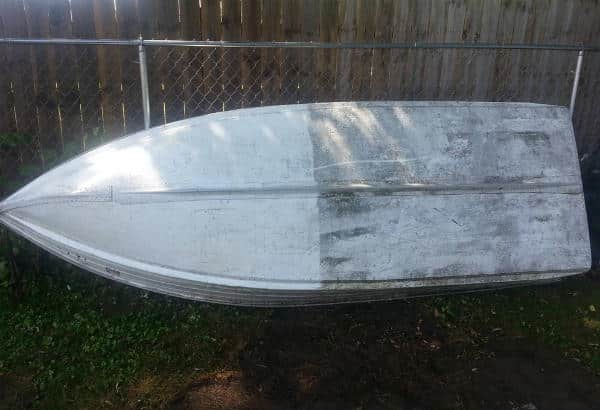 Number 8 is a bit of a random section that includes boats, lawn mowers, bikes and other random things around the house including dog houses, go karts and bird baths. A lot of people mentioned they also cleaned their other power equipment (tillers, chainsaws etc) with a pressure washer on Garagejournal.com and other forums, and that would fit into this section.
7. Cars and Trucks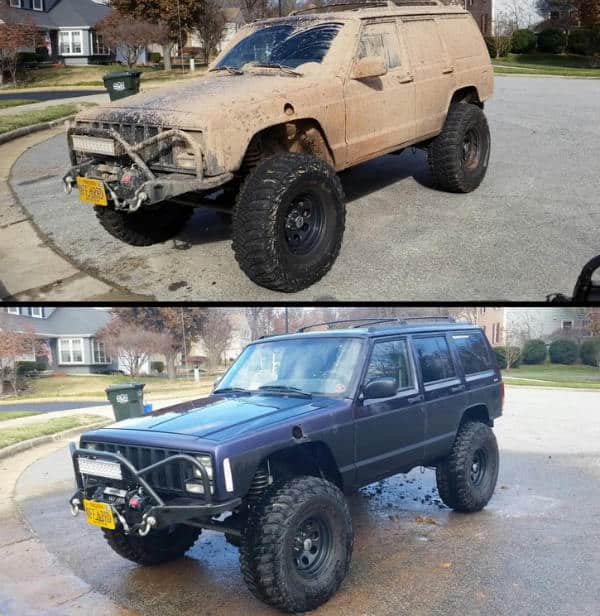 It was surprising cars and trucks weren't the consensus #1 use for a power washer. Many people said they often did clean their car with a pressure washer but it still needed a good solid sponge or brush to get it fully clean. Some people swore-by using pressure washer and attachment brush and didn't need any sponge to finish it off. Check out the image above. That was 100% complete with a pressure washer and scrub brush attachment. Not bad for 25 minutes work after a hard day 4 x 4'ing. Also be sure to check out this pressure washer cleaning solutions article to be sure to clean your car with the right soaps.
6. Fencing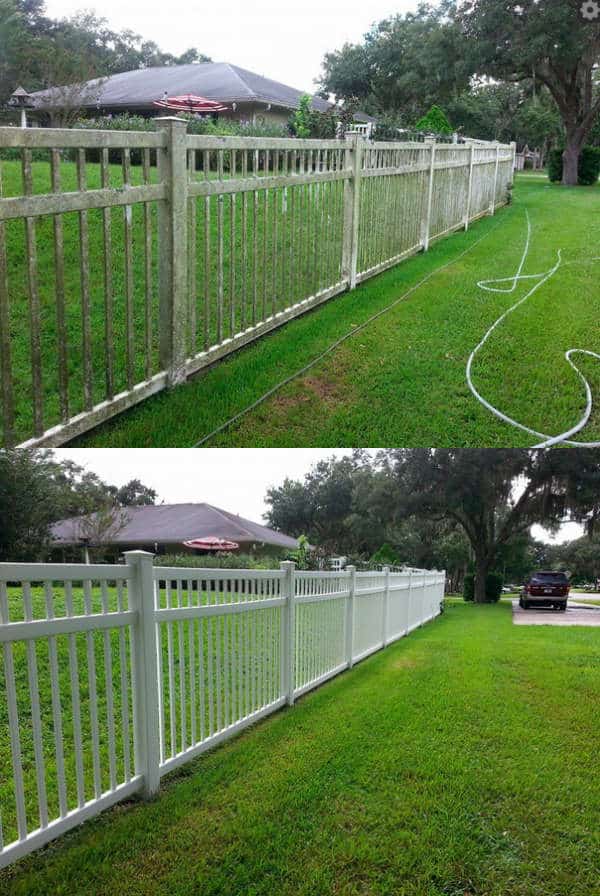 Basically everyone has a fence so it made since that it was a popular surface to clean with a pressure washer. (Img credit: pubmech)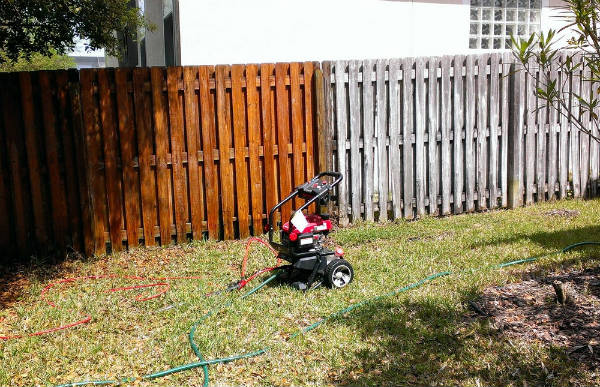 Wood fences too. Don't they look magnificent clean?
5. Home Exteriors Like Vinyl or Brick (And Also Window Cleaning)

It's always surprising to see how much better a house looks when it's clean. House siding and brick houses were a popular mention for pressure washer usage and came in as the 5th most popular use case. This includes all types of home exteriors.
4. Wood Decks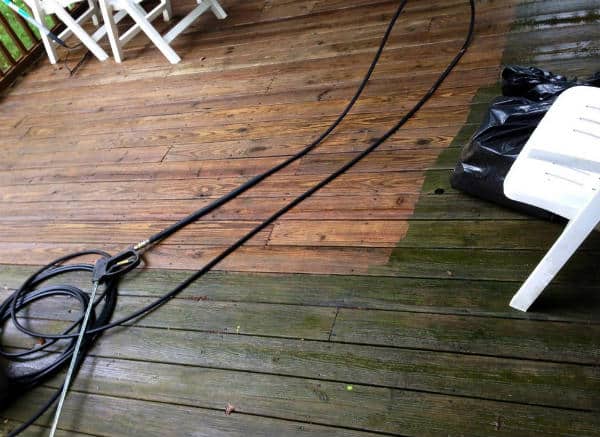 Pressure washing your wood deck or wood patio came in as the 4th most common way people take advantage of their pressure cleaner. You can use an electric or gas machine so long as you use the correct nozzle (25-degree or 4-degree nozzle) and hold it the correct distance from the surface (2-3 feet). Cleaning a wood deck is also a safety improvement. Think how slippery the dirty, mildew side would get when it rained.
3. Front Entrance Stairs and Walkways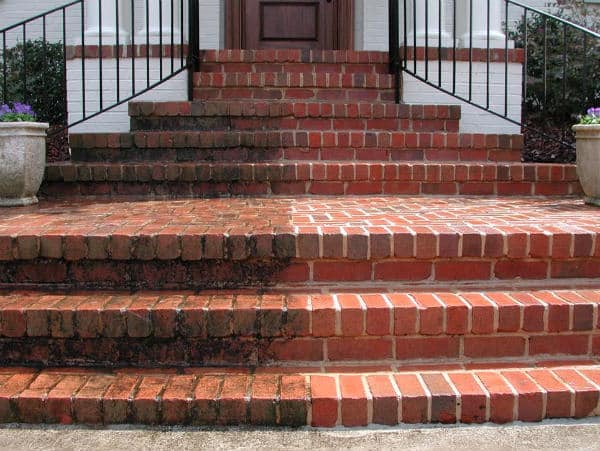 Realtors know the importance of curb appeal when trying to sell a house and there is almost nothing as important as a clean front entrance. As you can see in the pic the brick front steps look 10x better clean. And a pressure washer can do the job in 10 minutes making it seem effortless. I guess the combination of making your home look much better from curb and it being effortless is reason why it is #3 top usage case.
2. Concrete or Tile Patios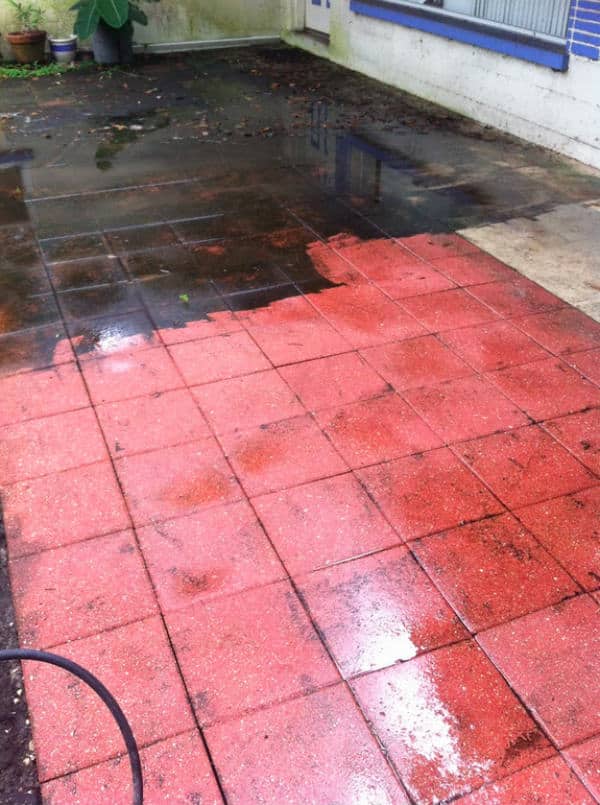 Sheesh look how bad that patio got. It looks like someone had painted it black and decided against the color… Patios are very popular entertaining space in the summer. It's where the BBQ grill is and it's where you can hang out and enjoy the nice weather. It's because of this reason that I think many people used their pressure washer to regularly clean their concrete/tile patios making the second most frequent reason people bought a pressure washer.
1. Driveways and Garage Floors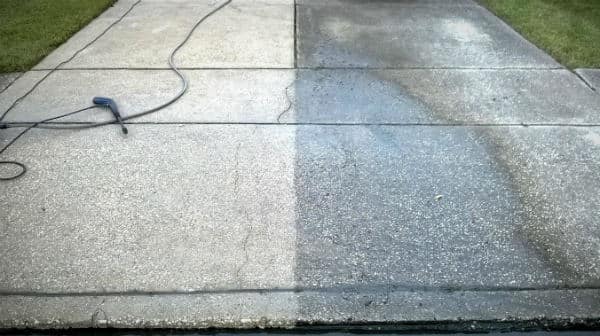 I think if I kept asking more people patio or front steps may have taken over first spot. But seriously almost 100% of people I talked to mentioned driveway as one of the pressure washer uses and main reasons they bought a pressure washer. It makes sense because driveways are front and center for your home curb appeal and a nice large flat surface to have fun using the full power of the machine.
The Top 10 Pressure Cleaner Uses:
Driveways and garage floors.
Concrete or tile patios.
Front entrance stairs and walkways.
Wood decks.
Home exteriors that are vinyl or brick .
Fencing.
Cars and Trucks.
Miscellaneous gear like lawn mowers, dirt bikes, boats or trailers.
Outdoor Furniture.
Grills.
Best Pressure Washer For Most People's Home Use Needs
First off, I have to say, check out our page on the 7 best pressure washers. There you will find the overall 3 best gas and 4 best electric. All great options for around the home and you'll have some choice on which brand and style to get.
But if you want my single recommendation – right here and now – I would say go with the Simpson Megashot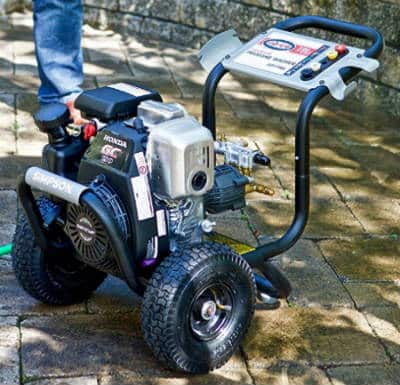 Take a look, it's perfect:
Portable because you have no need for electric cord
Powerful – but not ridiculous for around the home – with 3,100 PSI an 2.5 GPM
Honda engine
Sturdy steel carriage frame with space for nozzle, spray gun and pressure hose storage
Easy access to hose hookups at back of unit.
And all this for an affordable price because you're not paying for heavy branding (like you would with DeWalt).
Anyways, have a look at it further here:
See full specs on Amazon here…
How are pressure washers used in industry?
Believe it or not the majority of power washers bought are used in industrial environments. Businesses use them to be more efficient at cleaning. Instead of wasting time using other methods a high flow rate, high PSI, hot water power washer gets the job done quick, easy and thorough. Let's take a look in more detail:
Let me tell you a story.
I used to work at a rendering plant. There they take in grease from restaurants and gone-off fish and poultry and turn all that into rubber, farm feed, candles, tires and bio diesel.
Trucks would come into the plant and dump their load into the correct "hole". At the bottom were screws that pushed the product along screw conveyors to where the product would be heated to high temperature to turn it into a slurry of almost liquid quality.
Those holes (also called receiving bins) would need to be cleaned on a regular basis. We used hot water pressure washers with very high PSI and GPM. They cleaned the walls of the holes quite well. And very fast. Despite this being probably the hardest cleaning environment possible.
We also used pressure washers to clean the floors of the storage areas where food oil would often spill.
Other industries use pressure washers in different ways.
I know that in the mining industry pressure cleaners are used extensively to clean the haul trucks and light vehicles.
In the oil and gas industry they are used to clean out the storage tanks from time to time.
Power washers are great machines for cleaning. Only your imagination holds you back when thinking of ways to use them.
A Few More Remarks
These are the top pressure washer uses for residential use. Commercial power washing contractors I would doubt clean patio furniture or cars.
Different surfaces require different water force to remove the dirt and grime and clean the surface. Be sure to adjust the distance from the surface and the nozzle as necessary.