What would happen if you took the water from each state's biggest lake and distributed it evenly over the land?
How deep a pool would each state become?
In the geo chart (created by pressurewashr.com) below this information is revealed. However, you must know, the Great Lakes were not included because they are simply too big to create a meaningful geo chart distribution. Lake Superior would turn Wisconsin into a 71.3 metre deep pool. Whereas most of the states' biggest lakes turn them into multiple centimetre deep pools.
How deep a pool would your state be?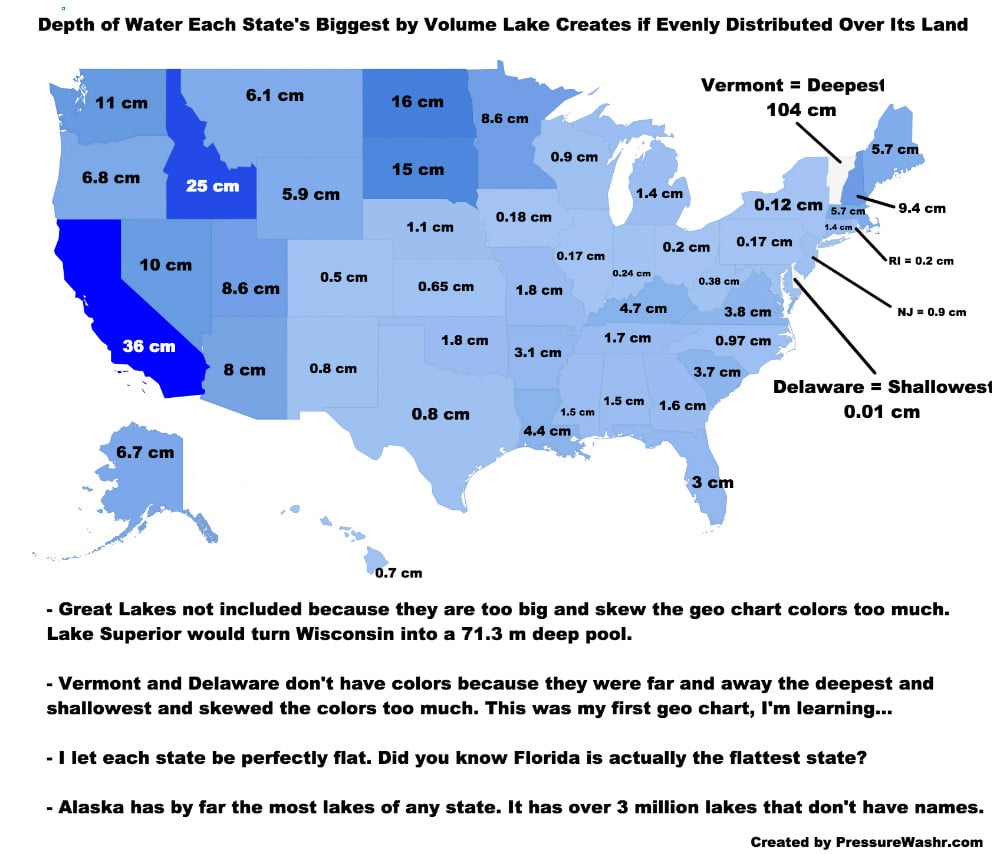 Method Used To Create Geo Chart
To create this geo chart data for the biggest volume lakes in the USA were taken from this Wikipdeia page and from LakeLubbers.com when a state did not have a lake on the Wiki page.
Then the biggest lake in each state was matched up with the state in an excel sheet. The area of the state in km2 and the volume of the lake in km3. Many lakes cross state lines so when that occurred I went into Google Maps and visually gauged which state it was more in (nothing too scientific here).
Once I matched up each state with a lake I divided the area from the volume (depth = volume/area) to get the depth.
This information was then charted on a geo chart in Google Sheets.
---
More from PressureWashr
By now, you have probably heard about the three r's (reduce, reuse, and recycle) that represent the foundation of preserving…