What is the Most Powerful Electric Pressure Washer You Can Buy?
Today you're going to see the most powerful electric pressure washer you can:
Buy right now from an online store and have it delivered in a few days/weeks
Order from a manufacturer who will then custom build to order for delivery in a few months.
Most people won't have much use for any of these pressure washers, and likely won't have the budget (we're talking $5,000 minimum for some of these).
If you're not in the market for an industrial pressure washer, check out the pressure washers we think are best for most homeowners and smaller contractors.
Buy Right Now Section
Will look at only these popular online pressure washer stores:
Pressure-Pro.com
Amazon.com
PowerWashStore.com
UltimateWasher.com
PressureWashersDirect.com
These powerful electric machines are commercial-duty, cost from $5k to $24k and are used by mobile pressure cleaning business owners to clean sidewalks, parking lots, buildings, restaurant garbage disposal areas, drive-thrus and more.
DIY Make Section
Explore the available options to put together a sort of hypothetical DIY powerful electric pressure cleaner. You'll see the size/weight/cost of its pump and motors and how its power compares to off the shelf machines.
Order From Manufacturer Section
We'll take a look at the really fun stuff – the ultra-high pressure (40,000 PSI and up) water jetting electric machines they use in the petro-chemical, offshore, mining and other heavy industry for:
Surface preparation/corrosion removal
Pipe cleaning and de-scaling
Tank and vessel cleaning
and more…
Let's dive right in.
What's the definition of most powerful?
We are defining most powerful as the pressure washer with the most cleaning power. Cleaning power is measured in cleaning units (CUs) and is the product of GPM x PSI.
For example:
2 GPM, 2,000 PSI machine will have 4,000 CUs of cleaning power.
4 GPM, 4,000 PSI machine will have 16,000 CUs (4x more cleaning power).
Most Powerful Electric Pressure Washer You Can Buy Right Now at These Online Stores:
Pressure-Pro.com
With a cleaning power of 28,000 CUs take a look at Pressure-Pro's most powerful option: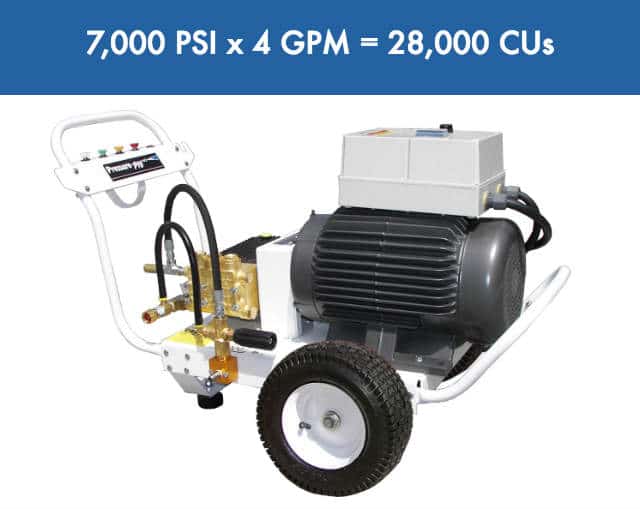 Amazon.com
This Shark brand machine (brand owned by Karcher) is the most powerful electric machine for sale on Amazon.com. It has 25,000 CUs of cleaning power… Not bad at all.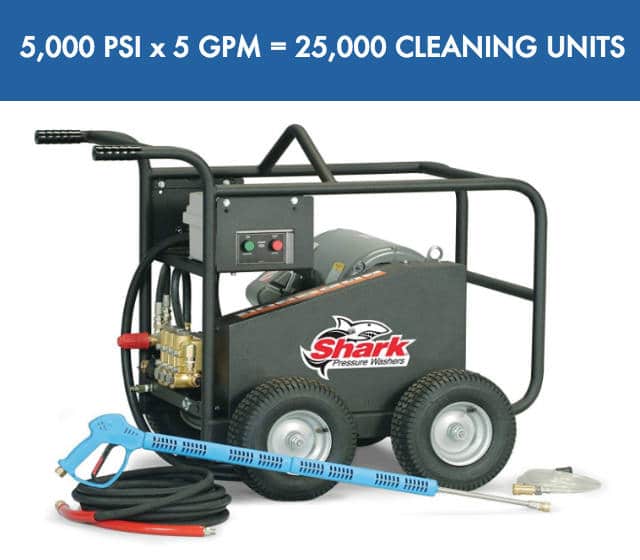 PowerWashStore.com
The most powerful one you can buy at PowerWashStore is actually the Pressure-Pro machine listed above – 28,000 CUs
They are selling it for ~$6,500.
UltimateWasher.com
At UltimateWasher.com you can buy a skid mounted 72,500 CU electric machine – far and away the most powerful from the popular online pressure washer stores. It costs $24,097 and the one in the image below is a representation (not the actual product).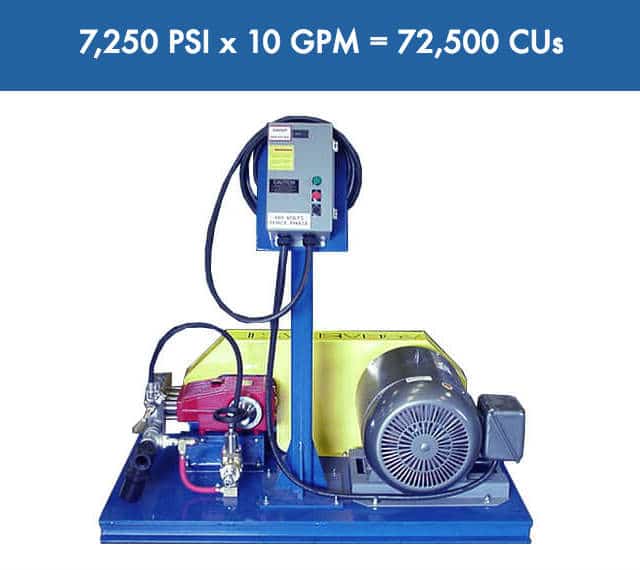 PressureWashersDirect.com
Although PressureWashersDirect.com has commercial pressure washers for sale they cater to residential users more. For that reason, their most powerful electric option is less powerful at 14,000 CUs… Still plenty of power to be sure to blast any surface clean.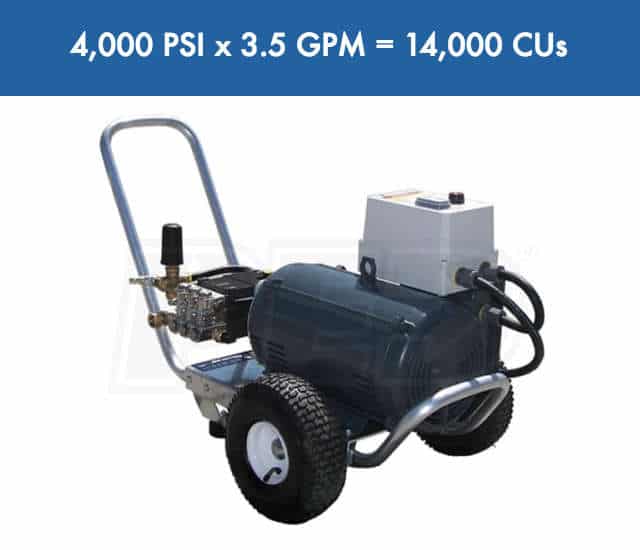 Highest Cleaning Power Electric Powered Machines Offered By These Popular Pressure Washer Brands
Karcher
5,000 PSI x 5 GPM = 25,000 CUs
1,900 PSI x 11 GPM = 20,900 CUs
1,900 PSI x 2.1 GPM = 3,990 CUs
Mi-T-M
5,000 PSI x 4 GPM = 20,000 CUs
Comparison Chart of 5 Most Powerful
The below comparison chart shows the most powerful electric machines from 5 separate brands.
Note that UltimateWasher offers 3 different models that are all more powerful than the #2 Pressure Pro. And Pressure Pro offers a bunch of models that are more powerful than the #3 Shark model…
…But for the sake of comparison, only the single highest cleaning power unit from each brand is shown.
| Image | Brand/Manufacturer | Cleaning Units (PSI x GPM) |
| --- | --- | --- |
| | Ultimate Washer | 72,500 |
| | Pressure Pro | 28,000 |
| | Shark/Karcher | 25,000 |
| | Kranzle | 20,900 |
| | Mi-T-M | 20,000 |
How Powerful an Electric Power Washer Can We DIY Make?
Off the shelf, CAT Pumps brand sells the most powerful triplex plunger pump (compared to General Pump, AR and Comet) for use in pressure cleaners.
CAT Pumps model 3560 is their most powerful, and it has these specs:
20 GPM x 4,000 PSI = 80,000 CUs
142 lbs (64.4 kg)
$6,439 (@ BPH Pump & Equipment)
It's huge – take a look: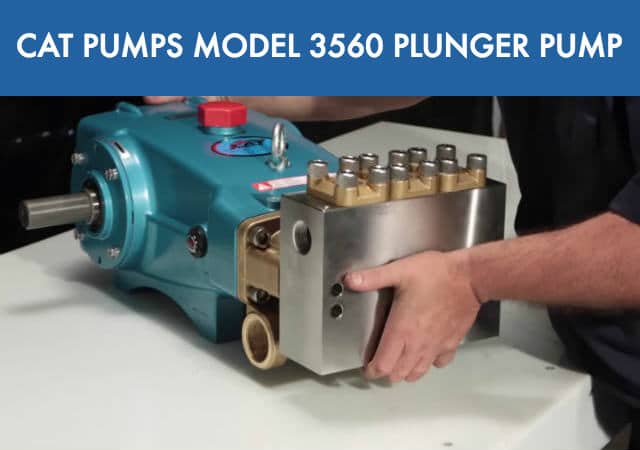 With those specs it requires an electric motor capable of 54.8 horsepower.
Here's what a 60 HP induction motor looks like (it's ~1,000 lbs and $3,000):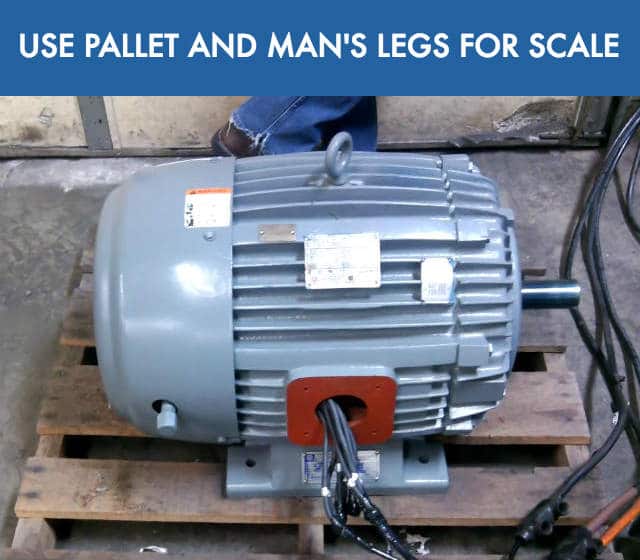 Let's review what our DIY pressure washer specs are so far:
$6,439 pump that weighs 142 lbs and is capable of 80,000 CUs
$3,000 motor (60 HP) that weighs 1,000 lbs and is as big as a pallet
What we still need to take into account:
Mounting arrangement – skid mount or trailer setup?
Belt drive connection between motor and pump
Plumbing and electrical to get it up to code and ready for use
Other parts required like hoses, hose reels, nozzles, valves, gauges, switches, water tank, detergent tanks…
Let's assume it is a trailer mounted power washer.
With the pump and motor costing $9,439 and the estimated cost of the trailer and other kit required… We can easily arrive at a cost of $20k+. Considering the option from UltimateWasher.com above is $24k I think the DIY option price is accurate.
If you go for the skid mount option then our powerful DIY machine will cost around $3k less.
The Most Powerful Electric Pressure Washers Used By Heavy Industry – The Ones You Need a Quote and Purchase Order Before Buying
These below electric pressure washers are classified as ultra-high pressure water jetting systems. They need to be ordered from the manufacturer with a purchase order (pay in stages as your machine build hits milestones) and most likely cost somewhere in the low-mid $100,000s.
With around 40,000 PSI and 4 – 8 GPM they have 160,000 – 320,000 CUs of cleaning power. That's 2x – 4x more powerful than the most powerful commercial electric pressure washers listed above.
Want to take a look at them?
Here's one by NLB Corp. with 40,000 PSI and 6 GPM (240,000 CUs). The man in the image is for scale and is 6 ft tall. Pretty huge bit of equipment, don't you think?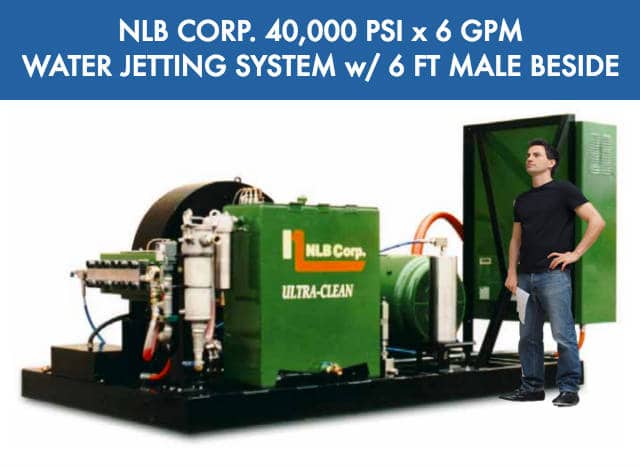 Next one is by CombiJet and has 36,250 PSI and 4.23 GPM (153,338 CUs). Again, the man in the image is 6ft tall for scale.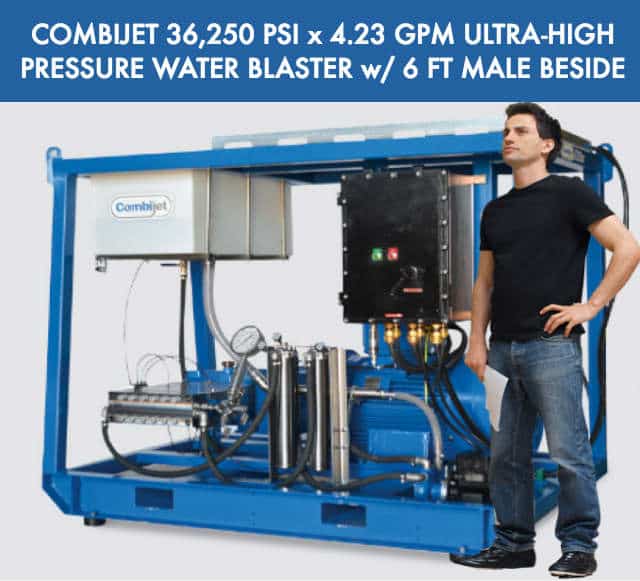 And finally, this last one by AirBlast Surface Treatment Solutions doesn't have a proper image but is the most powerful with 43,500 PSI and 8 GPM (348,000 CUs).
How Does The Most Powerful Gas Engine Powered Pressure Washers Stack Up?
You're limited by the pump. Whatever max cleaning power you can get from the pump, you can quickly find an electric motor or gas engine to power it. So the most powerful gas powered machine will be the same as the most cleaning power electric one – because they will both power the same pump.
Sources
CAT Pumps model 3560 image taken from this Youtube video.
Electric motor image taken from this Youtube video.